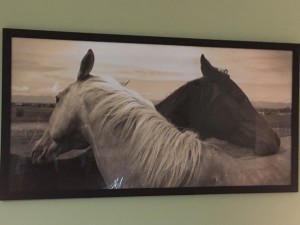 Meet Yin and Yang!
Happy New Year everyone! I hope you had a wonderful holiday and are with us looking forward to the year ahead. Those of you who visited during the holidays may have noticed a bold new presence in the treatment room. Please welcome Yin and Yang! I had my eyes set on this photograph for months and finally brought it in to keep us company.  Some of you have already commented on the calming effect it seems to spread to the room, and I really enjoy working in the aura of these magnificent creatures (my favorite animals). These horses are so strong, and yet so calming in their presence, which creates an appropriate balance of energy.
Speaking of Yin and Yang — the next few weeks will bring some other subtle changes to the treatment room. Let's just say – in keeping with the rising Yang energies (we are on the uphill side of the Winter solstice) – we will bring some increasing warmth into the room. I'll see if any of you will notice!
2017 "Healer Within" Spring Reboot
Rising Yang means Spring energy, and all I can think about is this year's "Healer Within" Spring Reboot. My inaugural blog this year deals with the inspiration for the program and touches on what to expect. You can also learn more about the program on the Spring Reboot page devoted to "Healer Within", which I will be updating as we get closer to the start date: April 21. You can sign-up to receive more information on that page, as well.
First BodyWork Sunday of the Year is around the Corner!
New Year's Day was on a Sunday this year, which means the 3rd Sunday just whips around the corner, so mind the calendar. This Sunday, December 15th, is the first BodyWork Sunday of the year, and what a way to honor your self-care resolutions. Join us!! Don't forget to book your session as early as possible.
Individual Massage
For those of you needing a full, concentrated hour of massage, don't forget that Molina is available every Wednesday evening for 1-hour private sessions. Book your session here.
Looking forward to continued growth as we seek to be highly responsive to your health needs in 2017!
In Health,
Johanne