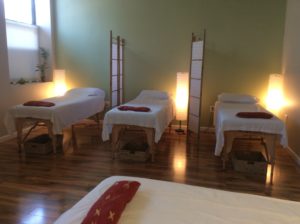 Harlem Chi Community Acupuncture is part of a growing movement that is changing the way healthcare is provided. Most acupuncture treatments in the U.S. take place on a table in a private room with a single patient. This is not traditional in Asia, where acupuncture usually occurs in a community setting.
Traditionally acupuncture was often practiced in a group environment, with daily or even multiple treatments per day. For various reasons, when the medicine moved to the West, a one-on-one model, with one treatment per week, in an individual treatment room became standard. But with this model, treatments are generally expensive, and people could often not afford the number and frequency of treatments that are understood within the profession as needed to provide the optimal results. (For an excellent article on these issues see Restructuring American Acupuncture Practices by Subhuti Dharmananda, Ph.D.)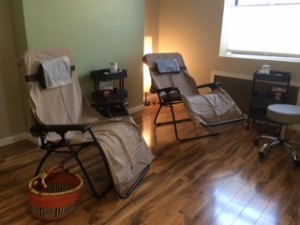 Besides helping to keep the cost of treatment reasonable, the community setting creates a powerful healing environment. As social beings we quickly pick up on the mood of a room or group of people. In the community treatment room, most people quickly enter into a deep state of rest, relaxation, and healing.
At HCCA we aim to provide acupuncture and other Eastern treatment modalities at an affordable cost while creating a vibrant community space. You will be treated in a calm and relaxing setting with a number of other patients resting nearby.
In addition, by facilitating issues that generally make this wonderful form of preventative care pleasant and affordable the mission is really to encourage and facilitate natural preventive health practices in our everyday lives. It is the HCCA mission to not only provide comprehensive care to every patient but to serve as a community resource and point of dissemination of self-care practices to help every individual take better control of their long-term health. 
READ MORE ABOUT THE UNIQUE BENEFITS OF COMMUNITY ACUPUNCTURE HERE….