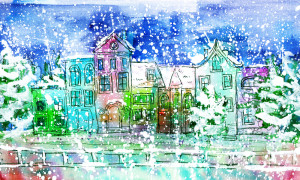 For the first time in quite a few years, I am spending the end of year holidays in New York. While I have always looked forward to the sun and warm weather break in the middle of winter, I am grateful that I am able to reunite with my family and look forward to a traditional NY holiday season.
In many ways we are all fortunate that the transition from fall to winter is marked by a number of meaningful traditions that in principle should serve to reinforce the energetics of the season. This transition is marked by the continuing decline of yang energy (the sun, expansiveness), and the rise of yin energy (darkness, condensing, concentration, stillness). This demands that we slow and steady our pace, and move closer to a state of rest and introspection. In other words, energetically, this is the time of year for turning one's awareness inward and holding to only what is essential. Often, we let the holidays have the opposite effect and stress at a time when we should reflect on only what is most important and find happiness in only what is essential. (For 10 tips on how to de-stress this holiday season I share this article from AcuTake.)
The winter season is also the season most associated with the energies of water. Water teaches us to find stillness and level ground. It shows us the path of least resistance and acceptance of all things. It is also that aspect of nature that represents mystery and the unknown.
And, thus, it is with this contemplation that I extend my wishes to all this holiday season — to connect with what is most essential, transpose fear of change into acceptance and contemplation of mystery, and connect with your inner strength to be able to extend love and joy from a place of stillness.
Holiday Schedule — No Change
I am pleased that I will be present full-time at Harlem Chi this season. Because of the way the holiday dates fall this year, Harlem Chi will maintain its regular schedule into 2017 with no change to its operational hours.
Last BodyWork Sunday of the Year
This Sunday, December 18th will be the last BodyWork Sunday of the year – just in time to bring in the Holidays and New Year.  Bring your tired bodies and Lindai, Barbara, and Deborah will take care of you!  Take a moment to schedule a wonderful pampering session to celebrate the Holidays and bring in the New Year!
Gift Certificates
In addition, there is always the option of giving the gift of wellness to a loved one with a Harlem Chi Gift Certificate — either for Bodywork Sunday or for acupuncture treatments!
I wish everyone great health, happiness and peace this holiday season along with an auspicious New Year in 2017!
Warm regards,
Johanne